Dockbutiken is a little toy shop in Gothenburg. Here you will find dollhouses, dolls, toy cars, eco-toys, wooden toys, stuffed animals, quality toys, dollhouse furniture, crafts, baby toys, toys for 1-year-olds and gift ideas. When it comes to dollhouses, Lundby dollhouses are common, but even larger and increasingly popular are English dollhouses in 1:12 scale. Featuring exquisite dollhouse furniture and well-crafted porcelain dolls, amazing little detailed dollhouse accessories, dollhouse food, dollhouse wallpaper and dollhouse flooring - all in 1:12 scale.

Toy shops in Gothenburg usually belong to the big chains, but Dockbutiken is a toy shop with a personal selection. Design toys, posters, OMM design.The doll shop puts a little extra emphasis on being able to offer dolls of different ethnicities, African dolls, dark skinned dolls, Asian dolls, brown haired doll, fair haired doll. But also soft fabric dolls, Manhattan Toys dolls, funny postcards, Lottie doll, Lottie's horse. When you are looking for a doll, car or teddy bear, the Doll Shop may be for you. Dolls, cars and teddy bears are part of the store's wide range of quality toys.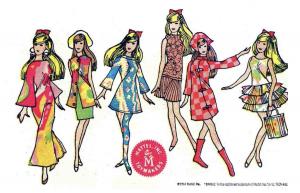 Klicka här för att se Fashion dolls guide and collection en privat samling av modedockor (Barbie, Dawn, Disco Girls, Dusty, Maddie Mod, Peggy från Plasty, Rock Flowers och Tressy) med vänner, kläder och tillbehör från perioden 1966-1978.

Dockbutiken är en leksaksbutik i Göteborg. Här hittar du dockhus, dockor, leksaksbilar, eko-leksaker, träleksaker, mjukisdjur, kvalitetsleksaker, dockhusmöbler, pyssel, babyleksaker, leksaker för 1-åringar och presenttips. När det gäller dockhus är Lundby dockhus vanliga, men ännu större och allt mer populära är engelska dockhus i skala 1:12 . Med utsökta dockhusmöbler och välgjorda porslinsdockor, fantastiska små detaljerade dockhustillbehör, dockhusmat, dockhustapeter och dockhusgolv - allt i skala 1:12. Leksaksbutiker i Göteborg tillhör oftast de stora kedjorna, men Dockbutiken är en leksaksbutik med ett personligare utbud. Designleksaker, affischer, posters, OMM design. Barbapapa som sparbössa, pussel eller varför inte tandask. Dockbutiken lägger lite extra vikt vid att kunna erbjuda dockor av olika etnicitet, afrikanska dockor, mörkhyade dockor, asiatiska dockor, brunhårig docka, ljushårig docka. Men också mjuka tygdockor, Manhattan Toys dockor, skojiga vykort, dockan Lottie, Lotties häst, pussel från Djeco, pussel från Vilac, Babuschka-dockor Animals 1 och Animals 2, nyhet Matryoshka dockor robot. När du letar efter en docka, bil eller nalle kan Dockbutiken vara något för dig. Dockor, bilar och nallar är delar i butikens breda sortiment av kvalitetsleksaker.